Belmont's #1 Dog Gym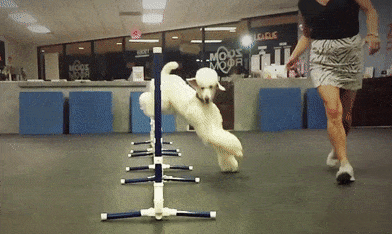 50+ 5-star reviews on Yelp
70+ 5-star reviews on Facebook
Positive dog training only
Agility Training
Puppy Classes
Obedience Training
Therapy Dog
Dog Tricks
Playgroups
Small group classes or private lessons
Five years in Belmont, training over 4,000 dogs (and their owners)
Open seven days a week, including evenings
Plenty of free parking
CALL US AT

650-446-1214
Or just stop on in:
1412 El Camino Real
At the Zoom Room we're dedicated to everything awesome for dogs and their owners. You can't drop off your dog. We want you both to come, stay, learn, play. Our goal is to fill the world with happy, tired dogs enjoying an exceptional quality of life as loving companions. And to provide you with a positive, social atmosphere to meet like-minded dog lovers.
If you and your pup have yet to swing by, please provide some quick info so we can help you take your dog's training and socialization to new levels.
We never share your info.
What Others Are Saying
"I highly recommend the Zoom Room in Belmont! The trainers there know just the right steps to approach my dog in a way that makes my dog feel safe and happy. They not only trained my dog, but they trained me as well, so I can further my training at home!" – Heather Y., Yelp.com
"We love the Zoom Room and all the wonderful and knowledgeable trainers there. We've taken Puppy Obedience, Puppy Agility, and Tricks classes.  As well, we have reserved Private Gym and participated in the organized Playgroups. All are done super well." – Sherrie T.,Yelp.com