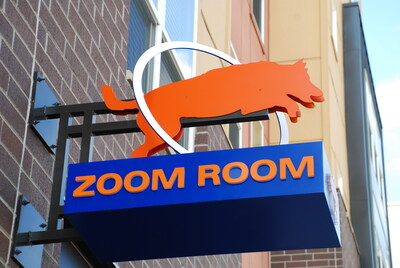 The Organization Redefining Dog Training Celebrates Quadruple-Unit Growth Since 2020
Los Angeles, Calif., Jan. 31, 2023 – Zoom Room, the venture-backed, revolutionary indoor dog training gym, announces today the signing of their 100th location. Closing out 2022 having quadrupled unit size in a short two-year timeframe, the company skyrockets into the new year with the continued mission of transforming the dog training landscape.
The news has been picked up by many leading trade and business publications such as Chain Store Age, and Yahoo Finance.
With the pet industry projected to reach $277 billion by 2030, Zoom Room is trailblazing the path forward through its model of positive training and socialization. Boasting more 5-star ratings than any other dog training business in America, the organization has seen a massive 70% growth in same store sales since 2019. For the nearly 5 million consumers that also became new pet owners in that same timeframe, Zoom Room provides a space like no other with a diverse offering of training services and events that place an emphasis on owners as much as their dogs.
In addition to its unit growth, Zoom Room is increasingly diversifying its geographic footprint, tripling its presence across the US from 8 states in 2020 to 27 states at the close of 2022. Looking ahead, the company aims to maintain a rapid growth trajectory, with a particular focus on expansion across all major metropolitan areas. Franchise openings in 2023 will include Chelsea, NY, San Diego, CA and Houston, TX. "Our long-term aspiration is to firmly establish Zoom Room as the premier destination for dog training," said Mark Van Wye, CEO of Zoom Room. "As we continue to expand across major cities, we're eager to enhance our reputation as a dependable resource for dog owners in the US and worldwide."
To support the growing needs of the business, Zoom Room also recently welcomed several new hires across operations to support the infrastructure beneath executive strategic leads, Stephanie Knepp and Liz Claflin.
"Pet franchises present exceptional investment opportunities due to the recession-resistant spending, increased demand, and unique price elasticity," said Anthony Polazzi, President of AP Franchised Concepts, the Venture Capital firm backing Zoom Room. "With an average EBITDA margin above 30%, Zoom Room's tremendous profitability and growth show no signs of slowing down."
Not only did 2022 reflect record sales for new Zoom Room franchisees, but the incredible success of the business inspired a significant number of the brand's single-unit franchisees to sign up to become multi-unit franchise owners. As the company welcomes new signees through 2023, it will continue its best-in-class practices for onboarding. Zoom Room extends genuine 360° support to its franchisees, beginning with a dedicated real estate team to identify a site with optimal demographics and assistance in navigating business formation and financing.
"Zoom Room has given me the opportunity to build a business that I love," said Brad Weaner of Zoom Room's Centerville, OH franchise. "We are thankful for our community's tremendous support and their excitement to embark on a new journey with us. Together, we will fill the world with happy, tired dogs."
"I love that by owning two Zoom Room locations in the greater Seattle/Bellevuearea I am able to meet so many wonderful dogs and their owners," said multi-unit franchisee John Jansen. "This is such a fantastic community, and the support we've received has been above and beyond what I could have imagined. I am very much looking forward to expanding into more neighborhoods in the near future."
For more information about Zoom Room, visit https://zoomroom.com/. For those interested in learning about franchise opportunities: https://zoomroom.com/franchise/.
###################
ABOUT ZOOM ROOM
Founded in 2007, Zoom Room® is a venture-backed and revolutionary indoor dog training gym with locations across the U.S. With an emphasis on socialization, positive reinforcement, human education and the value of interactive learning, the company aims to strengthen the bond and communication between dogs and their owners. Zoom Room's key revenue streams include dog training classes, socialization events and retail products. Zoom Room celebrates responsible pet owners who love to socialize with their dogs and embrace positive dog training methods in a fun, friendly environment for working out with your dog. They are the authors of the best-selling dog training book, Puppy Training in 7 Easy Steps, and Ultimate Puppy Training for Kids. Rooted in the belief that it's important to give back to the community, Zoom Room works closely with animal rescue and welfare organizations both locally and nationwide. Learn more at https://zoomroom.com/.