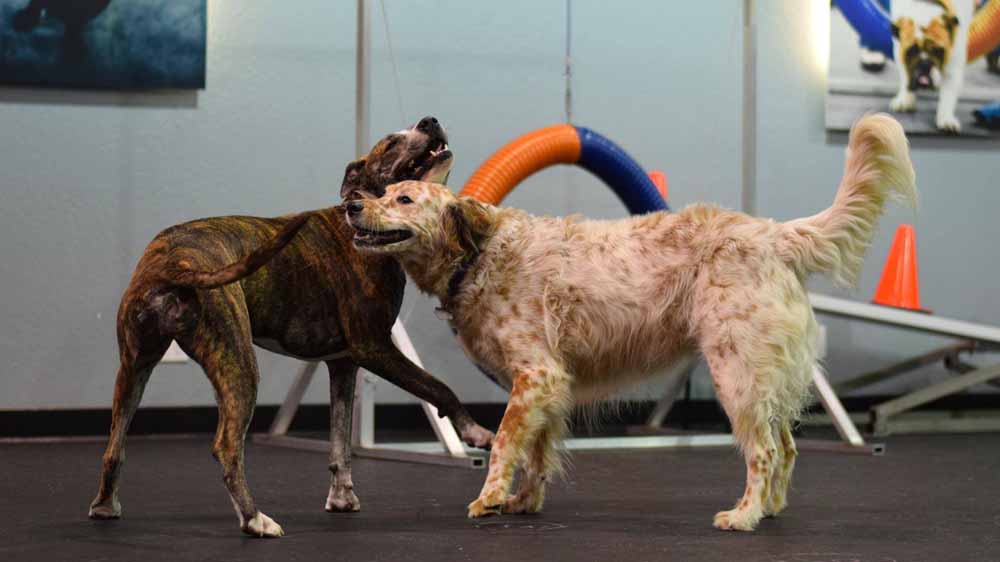 Side-by-Side Comparison of Dog Franchises
Are you interested in a dog business and looking for a side-by-side franchise comparison? We compare all of the major dog franchise opportunities in an easy-to-read chart, comparing these businesses with regard to franchise fee, staffing, training, service, startup costs and support.
PET FRANCHISE STATISTICS YOU SHOULD KNOW
Below we have provided a table of some of the most relevant statistics when choosing a pet franchise. As you research other pet franchises, it's also important to consider the following:
Liability
Any boarding kennel, dog daycare, pet sitting, dog walking or grooming business means people leaving their dogs with you. Even for a home-based business the liability implications are enormous. The Zoom Room is not a drop-off facility; owners are with their pets 100% of the time.
Management
If you've managed low-paid employees before, the headaches of employee management require no explanation. High turnover and subpar standards of animal care are commonplace. The Zoom Room was designed to be run by a single proprietor or a couple.
Hours
Any facility that offers overnight boarding or pet care is by definition open 24/7. That means you are on the clock 24/7. That means your phone will ring. A lot. The Zoom Room permits highly flexible hours for franchisees; you could even stay open only evenings and weekends, if you choose.
Revenue Streams
Some of the pet franchises listed offer only one product. You know the importance of a diversified portfolio; the same applies to a business.
The Fun Factor
We saved the best for last. Selling cookies, grooming dogs and kennel management just can't compare with your new daily life as a Zoom Room owner. Throwing dog birthday parties, running the agility course, teaching therapy dog training, puppy preschool, dog tricks. Conducting a Pup-Lates class. Hosting a Doggy Disco night. As jobs go for dog lovers, this one simply cannot be beat.
AFTER COMPARING THE COMPETITION…
And now, only two questions should remain:
Why didn't someone else think of this first? – Because we're just that passionate about dogs and their owners and the creation of the perfect business model. After seeing what works and what doesn't, we specifically designed the Zoom Room to be the perfect pet franchise.


Where do I sign up!? – That's an easy one. Right here.
PET FRANCHISE COMPARISON
Note: Home-based and mobile pet franchises are not included on this franchise comparison chart, as they represent a completely different business model – one with generally lower initial costs and lower earning expectations.
That said, we should at least mention the other available dog training franchises. The Dog Wizard uses prong collars and e-collars in their training methods. They do not have any dog training facilities – classes are conducted in outdoor public spaces. While their franchise fee is $5,000 less than Zoom Room's, their royalties are 10% – the highest of any pet franchise available in America – and 2% higher than ours. At the Zoom Room we practice only positive-reinforcement dog training, and conduct all training, distraction-free, in a dedicated state-of-the-art dog training gym.
Sit Means Sit, primarily home-based, has a $45,000 franchise fee – one of the highest of any pet franchise – and they rely heavily on the use of e-collars. Most of their franchisees provide in-home training only; others offer board-and-train options. In either case, the e-collar is central to their training method.
The Dog Stop's franchise fee is even higher – $47,000. They are primarily a doggy daycare requiring 8-12 employees at minimum and a 10,000 to 20,000 square foot facility. But they do embrace positive training, which we love! The initial investment is double that of a Zoom Room, and training would be just one aspect of the business.
Franchise Comparison Chart
| Pet Franchise | Initial Investment Low | Initial Investment High | Franchise Fee | Royalty | Min. # of Employees |
| --- | --- | --- | --- | --- | --- |
| The Dog Wizard | $47,750.00 | $64,300.00 | $34,900.00 | 10.0 | N/A |
| Sit Means Sit | $49,775.00 | $145,850.00 | $45,000.00 | $500-$600/mo | N/A |
| Pet Wants | $95,750.00 | $191,000.00 | $38,500.00 | 10.0 | 3 |
| Hounds Town USA | $127,300.00 | $193,000.00 | $35,000.00 | 6.0 | 2-8 |
| Splash and Dash | $118,250.00 | $218,500.00 | $48,500.00 | 6.5 | 3 |
| Preppy Pet | $100,950.00 | $248,200.00 | $34,500.00 | 6.5 | 4 |
| Three Dog Bakery | $144,200.00 | $282,000.00 | $25,000.00 | 5.5 | 2 |
| Zoom Room | $168,280.00 | $358,780.00 | $49,500.00 | 8.0 | 1 |
| Ben's Barketplace | $188,550.00 | $360,550.00 | $45,000.00 | 3.0 | 2-3 |
| Central Bark | $255,118.00 | $389,046.00 | $40,000.00 | 6.0 | 6-8 |
| Camp Run-a-Mutt | $187,725.00 | $466,925.00 | $35,000.00 | 6.0 | 10 |
| Pets Warehouse | $219,750.00 | $485,700.00 | $35,000.00 | 5.0 | 5-10 |
| The Dog Stop | $254,350.00 | $488,300.00 | $47,000.00 | 5.0 | 8-12 |
| Villa La Paws | $219,500.00 | $497,500.00 | $35,000.00 | 6.0 | 10-15 |
| D.O.G. | $429,000.00 | $548,500.00 | $40,000.00 | 7.0 | 12 |
| Earthwise Pet | $233,000.00 | $568,000.00 | $39,500.00 | 6.0 | 5-10 |
| Doggies Gone Wild | $145,600.00 | $618,800.00 | $29,900.00 | 6.0 | 1 |
| D Pet Hotels | $172,100.00 | $734,000.00 | $50,000.00 | 7.0 | 8 |
| Wag 'n Wash | $525,305.00 | $751,535.00 | $40,000.00 | 5.0 | 5-8 |
| Petland | $280,000.00 | $1,034,000.00 | $40,000.00 | 4.5 | 18 |
| Dogtopia | $416,032.00 | $1,071,075.00 | $49,500.00 | 7.0 | 10 |
| Camp Bow Wow | $859,644.00 | $1,118,817.00 | $50,000.00 | 7.0 | 8-20 |
| Pet Supplies Plus | $555,400.00 | $1,312,400.00 | $49,900.00 | 3.0 | 12-15 |
| Barkefellers | $1,000,000.00 | $5,000,000.00 | $70,000.00 | 5.0 | 30-40 |
Listed in increasing order of total cost