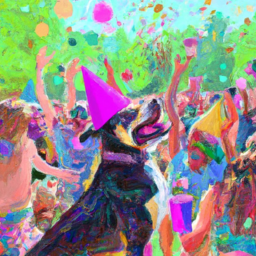 BERKLEY, MI, Oct. 8, 2022 – Zoom Room Dog Training is excited to announce the grand opening of their newest location in Berkley, MI on October 8, 2022. Kim Elliott, owner of the Zoom Room franchise, is thrilled to bring the unique dog training experience to the Detroit area. "We are so excited to bring Zoom Room to the Detroit area!" said Elliott. "Our unique approach to dog training is based on the latest scientific research and is designed to deepen the bond between dogs and their owners. We can't wait to help the dogs and their families of Berkley and the surrounding communities to live happier, healthier lives together." Zoom Room offers a variety of classes for all levels, from puppy socialization and basic obedience to agility and trick training. They also offer private sessions for those who prefer a one-on-one training experience. In addition to classes and private sessions, Zoom Room hosts a variety of events where dog owners can enjoy a drink while their pups socialize.
The Grand Opening of Zoom Room Berkley will be held on October 8th. The address is 2642 W 11 Mile Rd, Berkley, MI 48072. There will be $5 Intro to Agility Classes, a FREE Grand Opening Party, and special offers available only during the Grand Opening weekend.
"We are thrilled to be expanding our reach in the great state of Michigan and to be working with Kim Elliott and her team," said Mark Van Wye, CEO of Zoom Room. "The Berkley community has been very welcoming and we look forward to becoming a part of it." "I am excited to be a part of the Zoom Room family and to bring their unique brand of dog training to the Berkley community," said Kim Elliott, owner of Zoom Room Berkley. "There is a real need for this type of service in our area and I am confident that we will be able to make a difference in the lives of many dogs and their owners."
Zoom Room Dog Training is dedicated to helping dog owners strengthen the bond between them and their pets. They offer a variety of classes, socialization events, and retail products that all focus on positive reinforcement and interactive learning. Zoom Room also works closely with animal rescue organizations to promote responsible pet ownership.
###################
ABOUT ZOOM ROOM
Founded in 2007, Zoom Room® is a venture-backed and revolutionary indoor dog training gym with locations across the U.S. With an emphasis on socialization, positive reinforcement, human education and the value of interactive learning, the company aims to strengthen the bond and communication between dogs and their owners. Zoom Room's key revenue streams include dog training classes, socialization events and retail products. Zoom Room celebrates responsible pet owners who love to socialize with their dogs and embrace positive dog training methods in a fun, friendly environment for working out with your dog. They are the authors of Puppy Training in 7 Easy Steps, the best-selling dog training book of 2020, and Ultimate Puppy Training for Kids. Rooted in the belief that it's important to give back to the community, Zoom Room works closely with animal rescue and welfare organizations both locally and nationwide. Learn more at https://zoomroom.com/.