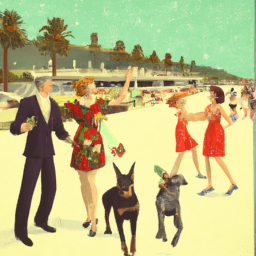 TORRANCE, CA, June 18, 2022 – Zoom Room will open its doors in Torrance, CA on June 18, 2022 under the ownership of franchisee Sarah Sung. Zoom Room is an indoor dog training gym that focuses on socialization. Using positive reinforcement, Zoom Room strengthens the bond of communication between dogs and their owners. "I'm so excited to bring Zoom Room to the South Bay community," said Sarah. "Zoom Room is a unique concept that offers a fun and stimulating environment for dogs and their owners. I can't wait to see the amazing things that our clients and their dogs accomplish together." Zoom Room will offer a variety of classes for all levels, from puppy socialization to advanced obedience. In addition, Zoom Room will host special events such as agility trials, flyball tournaments, and nosework workshops. Whether you're looking for a fun way to socialize your puppy or you're interested in training for agility, Zoom Room is the perfect place for you and your dog.
The Grand Opening of Zoom Room Torrance will be on June 18th. The address is 18521 Hawthorne Blvd. Torrance, CA 90504. The activities will include $5 Intro to Agility classes, a FREE Grand Opening Party, and the opportunity to take advantage of special offers. The date and time of the event is Saturday, June 18th, 2022 from 4pm-6pm.
"This latest Zoom Room opening is a testament to the dedication and commitment of our franchisees, Sarah Sung, who is bringing the Zoom Room brand and unique dog-training experience to dog owners in the Torrance area," said Mark Van Wye, CEO of Zoom Room. "We are thrilled to have Sarah as part of the Zoom Room family and we know that she will provide an exceptional experience for dog owners looking for a fun, social and enriching environment for their dogs." "I'm excited to be opening the first Zoom Room in Torrance and to be able to offer dog owners in the area a place where they can come to socialize and train their dogs in a fun and enriching environment," said Sarah Sung.
Zoom Room is the perfect place to socialize and train your dog. With an emphasis on positive reinforcement and human education, they offer a variety of classes and events that are perfect for bonding with your pup. They also have a strong commitment to giving back to the community, working closely with animal rescue organizations.
###################
ABOUT ZOOM ROOM
Founded in 2007, Zoom Room® is a venture-backed and revolutionary indoor dog training gym with locations across the U.S. With an emphasis on socialization, positive reinforcement, human education and the value of interactive learning, the company aims to strengthen the bond and communication between dogs and their owners. Zoom Room's key revenue streams include dog training classes, socialization events and retail products. Zoom Room celebrates responsible pet owners who love to socialize with their dogs and embrace positive dog training methods in a fun, friendly environment for working out with your dog. They are the authors of Puppy Training in 7 Easy Steps, the best-selling dog training book of 2020, and Ultimate Puppy Training for Kids. Rooted in the belief that it's important to give back to the community, Zoom Room works closely with animal rescue and welfare organizations both locally and nationwide. Learn more at https://zoomroom.com/.