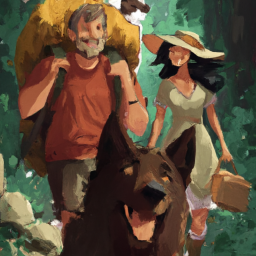 LOS ANGELES, CA, May 1, 2022 – It's no secret that exercise is important for our health, but did you know that it's just as important for our furry friends? In Good Housekeeping's May issue, the expert dog trainers from Zoom Room share insights on how to keep your pup in shape and why exercise is important for our canine friends.

Every dog is different, so pay attention to their pace and their behavior after the exercise sessions. If they're lethargic, panting excessively, limping, or walking stiffly, dial it down next time.

Consistency is key: Similar to the way proper training can prevent injury in someone who is new to, say, running, a daily exercise regimen keeps your pet in good shape and can help them avoid injuries.

As with people, older dogs generally don't move as fast as younger ones, and pets who haven't been exercising regularly need to condition their muscles for longer sessions. That's especially true if they're carrying extra weight or they have any health conditions, regardless of age. Extra wear and tear on overloaded joints can contribute to arthritis and increase the risk of acute injuries like torn knee ligaments. If your pet has been sedentary for a while, start with short, slow walks or play sessions and build up over time.

Exercise isn't just good for your pet's physical health – it also has mental benefits. Dogs who get enough exercise are less likely to develop behavioral problems like separation anxiety and destructive chewing. And just like people, dogs who get regular exercise are happier and more relaxed.

So what's the bottom line? A healthy dog is a happy dog – so get out there and get moving!
Zoom Room Dog Training is the perfect place for dogs and their owners to socialize and learn together. With an emphasis on positive reinforcement and interactive learning, Zoom Room offers a variety of classes and events that are designed to strengthen the bond between dogs and their owners. From puppy training to obedience classes, Zoom Room has something for everyone. In addition to classes, Zoom Room also offers socialization events and retail products. Their commitment to giving back to the community through animal rescue and welfare organizations is just one of the many reasons why Zoom Room is the perfect place for responsible pet owners.
For more information about Zoom Room, visit https://zoomroom.com/. For those interested in learning about franchise opportunities: https://zoomroom.com/franchise/.
###################
ABOUT ZOOM ROOM
Founded in 2007, Zoom Room® is a venture-backed and revolutionary indoor dog training gym with locations across the U.S. With an emphasis on socialization, positive reinforcement, human education and the value of interactive learning, the company aims to strengthen the bond and communication between dogs and their owners. Zoom Room's key revenue streams include dog training classes, socialization events and retail products. Zoom Room celebrates responsible pet owners who love to socialize with their dogs and embrace positive dog training methods in a fun, friendly environment for working out with your dog. They are the authors of Puppy Training in 7 Easy Steps, the best-selling dog training book of 2020, and Ultimate Puppy Training for Kids. Rooted in the belief that it's important to give back to the community, Zoom Room works closely with animal rescue and welfare organizations both locally and nationwide. Learn more at https://zoomroom.com/.