7% of Americans are veterans, but they make up 15% of Zoom Room franchisees, coming from every branch in the military, reports Franchise Times.
In the September 27, 2021 article in Franchise Times, Veterans and Franchising a 'Natural Fit,' Zoom Room franchisee KC Gardner, operating one unit in Reno NV, is highlighted:
KC Gardner, a new franchisee of pet-training concept Zoom Room, said her military experience has "absolutely" helped her succeed in business. She's a lifelong dog lover; while she was serving in the 1990s, she had a side business breeding and training chocolate labs. When she got out, she launched a grooming business, where she said the work ethic and dedication she learned in the military served her well. Gardner credits the leadership skills she learned in the Navy with helping the first few months go so smoothly. "I have a really strong staff at Zoom Room because of the military," she said.

Franchise Times, Veterans and Franchising a Natural Fit, SEPTEMBER 27, 2021
Profile of a Veteran in Franchising
The Franchise Times was so taken with this Zoom Room franchisee's story that they ran a follow-up article the following month to spotlight KC Gardner.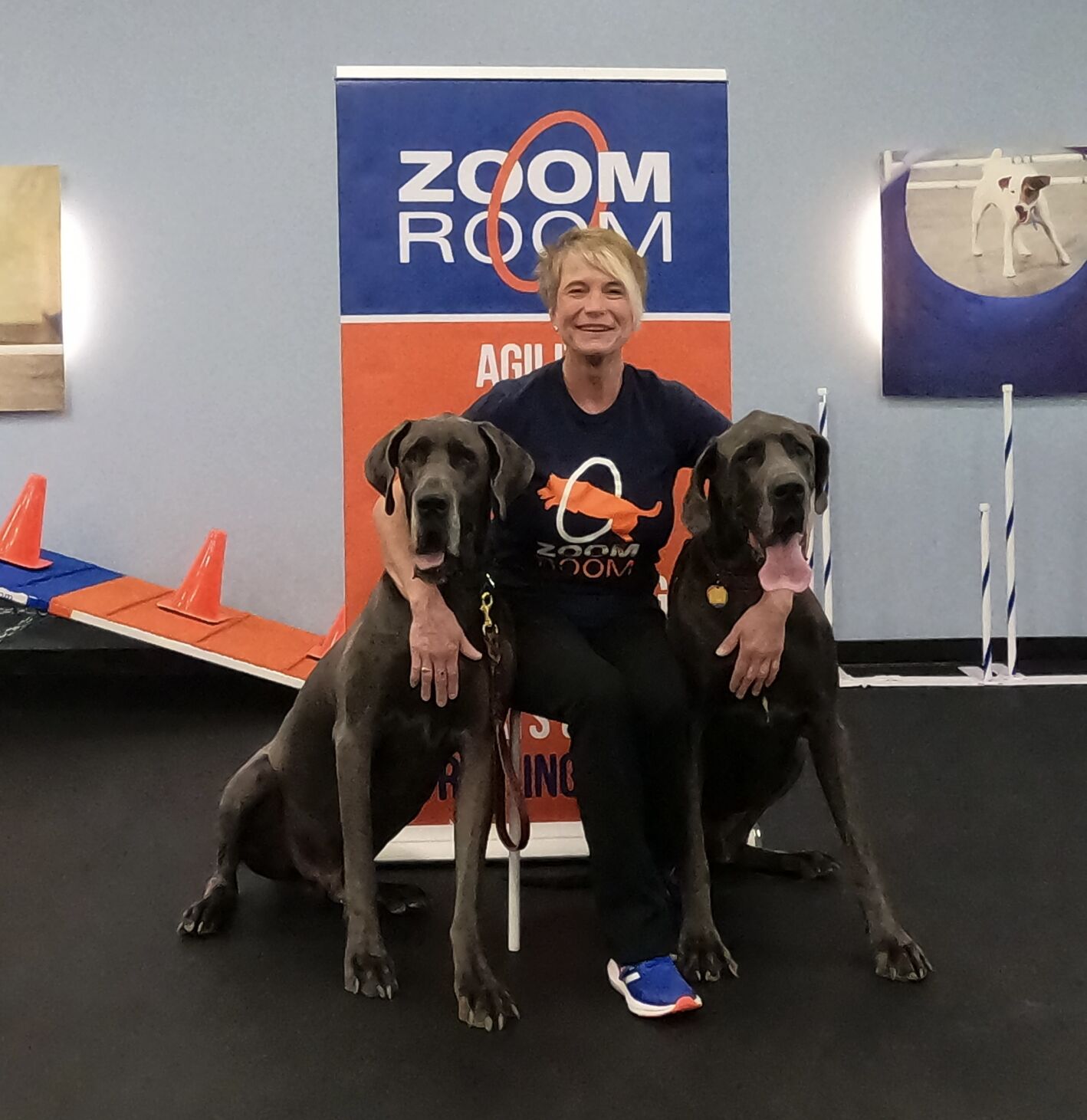 Dogs and dog training "have been a big part of my life for a long time," said KC Gardner. She's been in the dog business for more than 20 years, and recently opened the first Zoom Room location in Nevada. Zoom Room is a dog training franchise that focuses on building the relationship between dogs and their owners.
Gardner got her start in the dog business in the 1990s while she was in the Navy. She was stationed in Washington, which she said is a big area for duck and goose hunting, and had a side business breeding and training chocolate labs as hunting dogs.
After the Navy, she worked as a dog groomer and said she trained under a woman who clipped dogs for national competitions. "Ninety-nine percent of grooming is handling the dog and getting them to do what you want," said Gardner, drawing a direct line between her past as a groomer and her new training business.
Arthritis eventually forced Gardner to retire from dog grooming, but she said she knew she didn't want to leave the dog world entirely. She didn't share her age but said she was too old to take on the kind of risks a sole proprietor does. "Getting into a franchise took all the guesswork out of starting a new business," said Gardner, and many of her former clients at her grooming business are now her customers at Zoom Room.
Gardner's combination of dog and business experience makes her a "rare treasure," said Mark Van Wye, CEO of Zoom Room, in an email. The company doesn't require 'zees to have dog experience, and typically prioritizes business management or education experience. "When it comes to the dog stuff, we have that covered with our own comprehensive training program."
Zoom Room's motto, "we don't train dogs, we train the people who love them," truly encapsulates Zoom Room's business, said Van Wye. He said the emphasis on the people, rather than the dogs, helps 'zees build a stronger client community than other more dog-centric training businesses.
'Zees practice positive reinforcement training, which Gardner said is a shift from more traditional, aversive training methods. Take, for example, a dog that pulls too much on a leash. Dog owners might try to disrupt the pulling by yanking on the leash, and aversive training would try to manage the behavior with a choke collar or a leader. Positive reinforcement seeks to convince the dog it doesn't want to pull, by rewarding the animal with attention and treats when it walks calmly by its owner's side.
"Dogs crave our attention, but they don't differentiate between positive and negative attention," said Van Wye. Repeated negative attention can cause a dog to become distrustful, unaffectionate or even aggressive. It takes patience and discipline to shield a dog from the frustration they inevitably cause, he said, hence the focus on the people.
Aversive dog owners aren't mean, said Gardner, they just don't know better. Since opening in June, she said she's been surprised by the number of people "who genuinely want to learn" how to train their dog, rather than simply correct a specific bad behavior.
Zoom Room locations are typically 3,000 square feet and are filled with agility training equipment. "If you were a dog and you came in, it would look like Disneyland," said Gardner. The dog's clear favorite? The A-frame, a pair of ramps leaning against each other. Dogs walk up one side and down the other, and "the higher up they get, the more it trains them," said Gardner.
Agility training is less about working out with your dog and more about learning to communicate with them, said Van Wye. It's easy to communicate to a dog that you want them to climb a ramp, and when you do it successfully and reward the dog with attention and treats, it creates a communication bond that translates to less direct tasks, such as convincing them to stop pulling on the leash.
Gardner credits her Navy experience with helping her succeed in business. She said it instilled her with a strong sense of responsibility, as well as how to delegate and create a sense of camaraderie among her employees. "I have a strong team at Zoom Room because of the military," she said.
She has four dogs: two Great Danes, a terrier and a lab-beagle mix, Brandy, which she adopted after someone abandoned the dog at her grooming business. Gardner called around for the owner and briefly considered giving the dog to a shelter, "but it only took me two days to fall in love with her," said Gardner.
Gardner is the latest 'zee to open in Zoom Room's growth push. At the time the article was originally published, the system had 14 locations open, with another 24 sold; one year later (October 2022), Zoom Room has grown to 26 open locations with an additional 72 on the way and a dozen grand openings planned in the coming months. Van Wye said roughly half of the new franchisees have found the company organically, and the other half have been sent to the company by a network of franchise consultants.