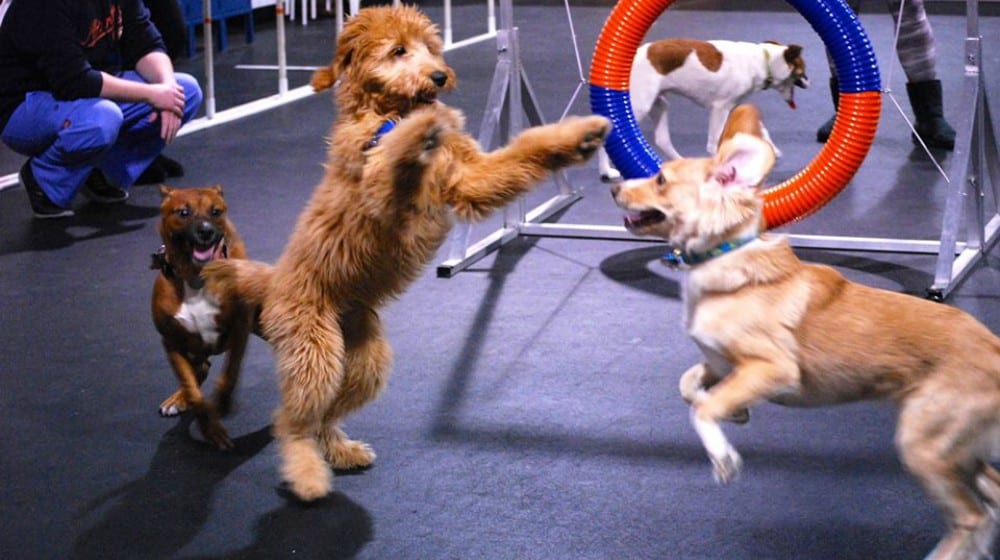 Small Business Trends interviews CEO Mark Van Wye in an article spotlighting his dog training franchise: Zoom Room.
The pet industry is booming. But it's not all about boutique grooming products or homemade treats. Service businesses like Zoom Room are also appealing to pet owners.
In their Small Business Spotlight, Small Business Trends goes in depth with Zoom Room. This franchise takes a unique approach to dog training, focusing on training the dog owners. At the same time, Zoom Room gives the dogs a place to exercise and socialize.
Zoom Room is a national indoor dog training gym with the moto, "We don't train dogs, we train the people who love them." Zoom Room focuses on providing curriculum that deepens the bond between dogs and their owners. This allows the owners to fully understand their dogs' behaviors and creates a distinctly social atmosphere at Zoom Room. Zoom Room also has philosophy to train dogs using only positive reinforcement. This is not only the most effective and humane means of dog training, but it's also something every dog owner can do.

Mark Van Wye, CEO Zoom Room
How the franchise started
Zoom Room came onto the scene because there was no indoor space for owners to train with their dogs. There was a lack of quality dog training curriculum outside of the traditional obedience training. They created a unique place where dog owners could come and play. Where they could train and exercise with their dog. A place to socialize with other like-minded dog lovers.
Van Wye describes the Zoom Room's mission to "to deepen the bond between dog and owner." They accomplish this in part through the use of cutting-edge curriculum not seen elsewhere.
Their biggest win
One of our biggest wins in Zoom Room's history would have to be the recent investments we've secured with experienced franchise investors to spur the franchise growth of our brand around the country. We're confident Zoom Room would become the epicenter of any dog-loving community and with the pet industry expected to top $96B in sales by 2020, we feel there's no better time than now to expand the brand."

Mark Van Wye, CEO Zoom Room
The best lesson in franchising
In Zoom Room's early days, they were so excited to get their dog training franchise launched across the U.S. Because of this, they didn't do enough due diligence into the financial wherewithal of those applying to become franchisees.
They didn't verify franchisees' amount of available liquid capital to ensure that it was sufficient for launching and growing a business. As a result, Zoom Room saw some stores close because the owners, from the outset, were unable to properly stock, staff or market their locations.
"If we could do it all over again," says Van Wye, "we would have asked the hard questions at the beginning, and worked with a great partner like Benetrends. These days, we partner with them – experts in the field – to diligently qualify our candidates as well as to assist them in securing all necessary funding to make their business a success."
The future of this dog training franchise
After the investment Zoom Room received in the late summer of 2017, and all of the profound improvements they made to their infrastructure, they now have the bandwidth for limitless growth. Zoom Room is finally poised to bring this franchising opportunity to dog-loving entrepreneurs across the U.S