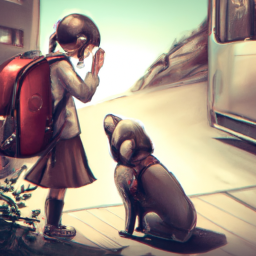 LOS ANGELES, CA, July 26, 2022 – It's that time of year again – time for the kids to head back to school and for parents to get back into the swing of things. But what does that mean for your furry family members? If you're like most pet parents, your dog or cat is used to having you around all the time during summer break. Suddenly having to adjust to being alone while you're at work or school can be tough on them – and that's where Heather Gilihan comes in, in an article in Wide Open Pets that tapped Zoom Room for their expert dog training advice.

As a certified professional dog trainer and behavior consultant, Heather has helped countless dogs and cats adjust to changes in their family's schedule. She says that the key to helping your pet through this transition is to start preparing them well in advance.

"The first step is to get your pet used to being alone for short periods of time," Heather explains. "If you know you'll be gone for eight hours during the day, start by leaving them alone for one hour, then gradually increase the amount of time you're gone. This will help them get used to the idea that you'll be leaving and coming back."

In addition to getting your pet used to being alone, Heather says it's important to give them plenty of exercise. "A tired dog is a good dog," she says. "Make sure they're getting plenty of walks, runs, or playtime before you leave in the morning so they're not full of energy when you're gone."

Finally, Heather recommends leaving your pet with something that smells like you – a piece of clothing that you've worn recently will do the trick. "Dogs have an amazing sense of smell, and this can help comfort them when you're not there," she says.

With a little preparation, you can help your furry friend make a smooth transition back into the school year. And who knows – they might even enjoy having some alone time to relax and recharge.

"Heather's expertise in dog behavior and training is an invaluable asset to our team. She has a deep understanding of how dogs think and learn, and is able to communicate this effectively to our clients," adds Stephanie Knepp, VP of Operations for Zoom Room.
Zoom Room is the perfect place for dog lovers who want to socialize their pup and learn more about positive dog training methods. The company offers a variety of classes, events and retail products that make it easy and fun to work out with your dog. Zoom Room also gives back to the community by partnering with animal rescue and welfare organizations. Their commitment to responsible pet ownership makes them the perfect choice for those who want to make a difference in the lives of animals.
For more information about Zoom Room, visit https://zoomroom.com/. For those interested in learning about franchise opportunities: https://zoomroom.com/franchise/.
###################
ABOUT ZOOM ROOM
Founded in 2007, Zoom Room® is a venture-backed and revolutionary indoor dog training gym with locations across the U.S. With an emphasis on socialization, positive reinforcement, human education and the value of interactive learning, the company aims to strengthen the bond and communication between dogs and their owners. Zoom Room's key revenue streams include dog training classes, socialization events and retail products. Zoom Room celebrates responsible pet owners who love to socialize with their dogs and embrace positive dog training methods in a fun, friendly environment for working out with your dog. They are the authors of Puppy Training in 7 Easy Steps, the best-selling dog training book of 2020, and Ultimate Puppy Training for Kids. Rooted in the belief that it's important to give back to the community, Zoom Room works closely with animal rescue and welfare organizations both locally and nationwide. Learn more at https://zoomroom.com/.