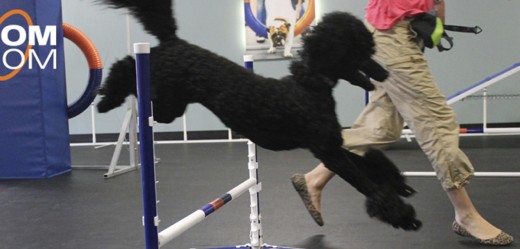 Keep Fit & Active With Your Dog
SPECIAL OFFER FOR NEW CLIENTS:
$18 FOR ANY TWO CLASSES!
For new clients we're offering a great deal. FOR ONLY $18 you can try out any TWO of our small group classes. (This introductory offer is normally priced at $36.) Choose from Agility, Obedience, or Puppy classes, or a wide range of enrichment classes such as Tricks and Pup-lates.
To take advantage of this offer, click here, and use promo code FB2418 during checkout.
If you have a minute, please check out our website to learn more about the services we offer and how our classes work – the FAQ is one good place to start! Or just give us a call with any questions – contact info is at the bottom of this page. But here's the most important stuff to know:
Before you can attend class, we'll need a copy of your dog's current vaccination records. Bring them with you during your first visit, or you or your vet can fax them (number below).
Also, before you can sign up for your first class, you'll need to sign up for either an Orientation or an Evaluation.
Orientations are free, 30 mins long, and you'll attend without your dog. After completing this Orientation, you'll be all set to sign up for Obedience 1, our basic manners class, which is where (almost) everyone begins.
Are you confident your dog is able to place out of basic obedience and ready to jump into Agility, Tricks, more advanced Obedience or any of our other classes? No problem. For that, you'll need to schedule a half-hour one-on-one Evaluation, which costs $25, and will allow us to determine the appropriate level class your dog can enter. If you sign up for an Evaluation, you will not need to do an Orientation.
Not all dogs are social enough around other dogs to be able to do small group classes. If you purchase this two-class special and we determine either during your evaluation or your first class that group sessions aren't ideal, we'll be happy to apply the $18 toward private one-on-one training sessions.
The Zoom Room is dedicated to everything awesome for dogs and their owners: a wide range of group classes using only positive training, playgroups for fun and essential socialization, and our pro shop – full of the very best dog gear, all-natural treats, irresistible toys, and everything else a dog could desire.
You can't drop off your dog. We want you both to come, stay, learn, play. Our goal is to fill the world with happy, tired dogs enjoying an exceptional quality of life as loving companions. And to provide Charlotte with a positive, social atmosphere to meet like-minded dog lovers.
"We love the Zoom Room! Our dog considers it her second home. The training is so much fun for the dog and the owner. We've been through other training, but Julene and her staff is by far the best we've encountered. You get to see so many different dogs in action and meet great people, while training in a clean, well equipped facility." – Yelp.com
Zoom Room Charlotte
Give us a call or swing on by:
12239 N. Community House Rd.
Charlotte, NC 28277
TEL: (704) 900-6728
FAX: (704) 706-9166