Grab Your Light Saber and Join Us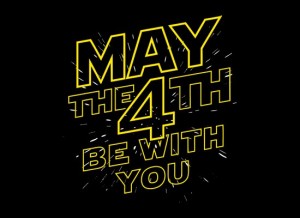 If you love Star Wars then you know that Saturday, May 4, is "May the Fourth Be With You" day, a day that celebrates all things Star Wars.
We at Zoom Room Sherman Oaks want to celebrate with you. Come as Han Solo or Princess Leia and bring your Ewok or Wookie with you for an evening full of interplanetary fun.
The festivities launch at 6pm next Saturday. There will, of course, be a costume contest (alien costumes appreciated!), treats for humans, canines, and aliens, and a silent auction brought to you by HalloweenCostumes.com. (Like them on Facebook for a 15% discount on your costume.)
The silent auction will benefit Military Working Dog Adoptions. This amazing group finds furever homes for canine military heroes who have served our country courageously and want to spend the rest of their lives in a loving home.
The first 25 guests take home a gift bag with some surprises and a donation by Linquet. With Linquet, you can "use the force" to find your phone.
The cost for all this fun? Only 5 Galactic Credit Standards/dog (that's $5) on leash. People are free!