Pit Bull Awareness Month
This month honors all those Pit Bull and Pit Mix dogs that are out there.  So many have a bad rap, but here at the Zoom Room we've chosen Zip Browne to represent the Zoom Room for Pit Bull Awareness Month.  Zip's Mom and Dad had been in Japan for about 2 years building prototypes and came back to sweet loving Zip.  Zip lives just up the road from the Zoom Room and often stops by in during his walks! Zip loves to take obedience classes here and is currently working hard to master Basic Manners and his dream is to become an agility star! He's an ambassador and will cover you in kisses debunking Pit Bull Myths.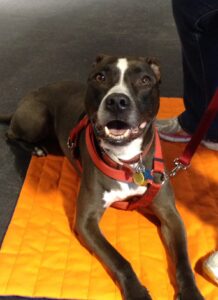 Breast Cancer Awareness Month
While we all love seeing our Seahawks sporting the pink for Breast Cancer Awareness, who else loves pink??  JAVA-PIG that's who!  Java's mom is currently writing a book about Java-Pig and her adventures in Seattle and hopefully the Zoom Room.  Why is Java pink you ask??  Well, her family really wanted a pig, but couldn't have one in the city, hence Java-Pig!  Java stands for the innocence of childhood, kindness and that big things come in small packages!   To find out all about Java and her friend Mary, check out their web page at JAVAPIG.COM  Java donates part of her proceeds to childhood dentistry!