Please join us on October 2nd and 3rd!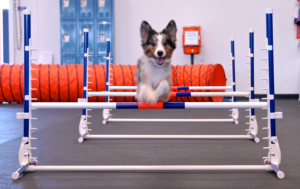 What: $5 Intro to Agility Classes
When: October 2nd & 3rd
Choose from Saturday at 9am, 10am, 11am, 12pm or 1pm or Sunday at 12pm, 1pm, 2pm, 3pm, or 4pm
– Each class is 45 minutes long 
What: FREE Grand Opening (Socially Distanced) Parties
When: Saturday, October 2nd 2021 from 4pm-6:30pm
Special Covid-19 procedures are in place to ensure your safety – space is limited!
Where:
Zoom Room Santa Clarita (click to learn more about Zoom Room)
26111 Bouquet Canyon Rd Suite D3b
Santa Clarita, CA 91350
$5 Agility Classes
Throughout the morning on Saturday and Sunday we are offering a few Intro to Agility classes for only $5. Space is extremely limited, so if you'd like to sign up for an agility class, click below to choose a time and purchase – as courtesy to others please do not double book classes for one dog. Two humans per dog allowed inside our training gym (but there's plenty of room for others to watch from the lobby!). Take advantage of special offers only available during the Grand Opening weekend.
Click here to purchase & reserve your dog's spot
Grand Opening Parties
We hope that you and your dog will join us in celebrating the Grand Opening of our newest Zoom Room. The festivities during each 30 minute party are free for everyone to enjoy, however those who RSVP and attend will receive a special gift. In addition, Zoom Room will donate $10 to California Spectrum Care for everyone who RSVPs and attends.
Click here to RSVP for a party
We invite you to:
Check out our indoor dog training facility and meet our great staff
Take advantage of special offers available only during the Grand Opening weekend
Share photos of you and your best friend from our super fun mini photo booth
Snap hilarious pics of your dog trying our Bobbing for Hot Dogs challenge
Enjoy the most delish cupcakes from our friends and neighbors at Jill's Cake Creations along with vegan options from Kupcake Kitchen and other complimentary snacks & drinks
Kids are welcome and will especially enjoy our Doggy Donut Decorating station with complimentary freshly baked donuts: a gluten-free, all-natural treat for your pup
Games, raffles, giveaways and more!
COVID-19 safety – To ensure a safe environment for all of you and our staff, we ask that you sign up for one time slot and limit the number of humans in attendance to two. We have plenty of space for everyone to practice social distancing – face masks are required regardless of vaccination status.