Zoom Room Selected for 2010 Franchise Hot 100 List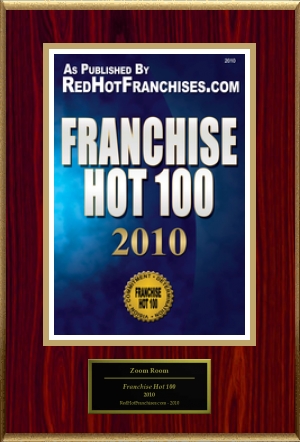 The Zoom Room Dog Agility Training Center has been selected for the 2010 Franchise Hot 100 List by RedHotFranchises.com.
This is an exclusive list of franchises that have demonstrated superlative performance, demonstrating that their business models stand out from the crowd of over 3,000 franchises in over 100 different industries. Ranking is based on a variety of factors including:
Management
Franchisee Satisfaction
Franchise Support
Growth Rate
Financial Stability
Profitability
With over 25 years of experience, RedHotFranchises.com is one of the most trusted authorities on franchises and franchising. The Board Members who determine the ranking of the HOT 100 FRANCHISE LIST have over 50 years of combined franchise experience including Franchisors, Franchisees, Franchise Suppliers and other leading Franchise Experts.
Needless to say, we at the Zoom Room are delighted to receive this honor of recognition a mere six months after our franchise launch.
Learn more about our Zoom Room pet franchise.