Sierra Is At Her Peak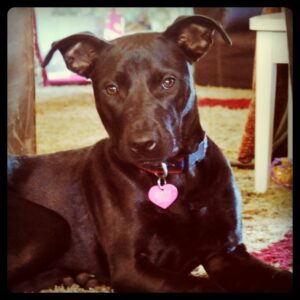 Almost two years ago, Sierra was a six-week-old puppy, rescued by Noah's Bark and looking for a home.   Monica and her family (Shane, Madison, and Sydney) were looking for a puppy when the stars aligned just right. They found Sierra (proudly named by oldest daughter, Madison) at the tender age of three months old.  She joined their family then and none of them have ever looked back.
The last 20 months have been a bonding experience for the family, as it included working with her on a variety of issues (excessive barking, gastrointestinal issues/vomiting, protectiveness of the home/difficulty with strangers) that they didn't anticipate.
Sierra will be celebrating her second birthday on October 23 and her family says, "it is AMAZING to look back on how far she has come."  Monica, along with her husband and children, has worked very hard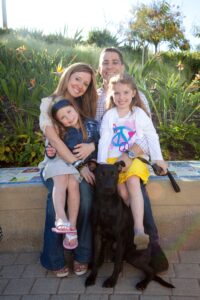 to overcome Sierra's issues.
With training, as well as high doses of love and attention, Sierra has blossomed. Monica says that training, in conjunction with taking Agility classes at the Zoom Room, propelled Sierra's confidence (and her trust in her mom) in a way that she never anticipated and greatly appreciates. "She absolutely loves having a 'job' to do and agility class is perfect for her!"
Monica uses special treats for her little mutt. Because Sierra has a sensitive stomach, she either gets dried sweet potatoes or – as in the case of agility training classes — fresh chicken!
She loves to play with tug toys, Barbies that are mistakenly left on the floor, dog puzzles, and the neighbor's Labrador, Charlie.  She dislikes the Fedex delivery man (a.ka. the boogie man trying to hurt my family!), sleeping on the floor (only beds work for this girl!), and not being a part of the action.
She is truly a part of their family and they can't imagine life without her.
Congratulations, Sierra!  You have made great strides and we are all proud of you!