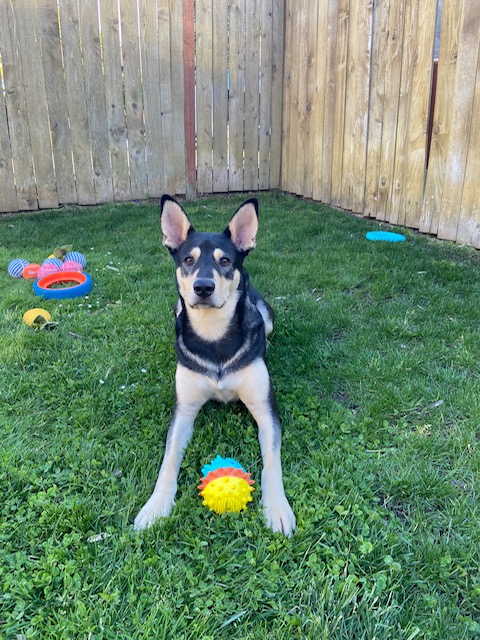 Heinz, all Boston Terrier, joined the family as a puppy in 2015. He was living the good life, when in 2020 Daisy, a Boston Terrier/Frenchie, was rescued from a puppy mill. Heinz made it a point to show her what the good life is all about!
Favorite Toy: Heinz: "Fishy", Daisy: Kong Wubba
Favorite Treat: Heinz: Freeze-dried hearts/liver, Daisy: bully sticks
Favorite Thing To Do: Heinz: Parkour on walls and rocks while walking, Daisy: she just steals all of the attention!
Favorite activity at the Zoom Room: Heinz: Agility, Daisy: attention from the employees
Daisy and Heinz's owner, Colleen and Tony, had this to say:
Heinz is a goofy dude who likes to trick Daisy into giving him the toy he wants by barking to go outside, then grabbing the toy when she runs to the door. Daisy is very sweet, very stubborn, and very food motivated. She likes to sniff everything on a walk and has a great time finding the rats in Barn Hunt! Life is never dull with these two, so Colleen and Tony decided to foster another. Right now, Heinz and Daisy are helping to socialize Poppy to home life while she waits for her forever home. At 5 months she is keeping Heinz and Daisy on their toes and young at heart.