Learn good social skills at the Zoom Room!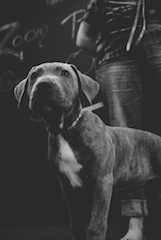 As the owner of a puppy, you've probably read about the critical socialization that occurs during the first 16 weeks of life. This stage essentially determines how the puppy will interact with strangers, new environments and other dogs for the rest of its life! During this incredibly important time it is recommended that you introduce your puppy to as many new humans, dogs and environments as possible. And herein lies the dilemma, as your veterinarian has also advised you to keep your puppy away from other dogs and strange environments until they have have had all of their vaccinations. What to do?
At the Zoom Room we understand how critical this age is for a puppy and have designed a special Puppy Playgroup program. Puppy Playgroup is for puppies from 8 weeks up to 16 weeks of age, and is a dedicated time in our gym for puppies to interact with other growing puppies, with friendly new humans, and all with new smells, sights and sounds for your puppy to experience. We specifically sanitize and clean the gym areas, and we require age-appropriate vaccinations to keep your puppy safe.
If you have a puppy now or are thinking of getting one soon, we encourage you to sign up for Puppy Playgroup to give your puppy that essential socialization that will last for all of your years together. Puppy Playgroup meets on Tuesdays from 6:30 – 7:00pm and costs $10 per session, or $35 for a 4-session package. If you have any questions about Puppy Playgroup or puppy socialization please feel free to give us a call at 512-371-1223.
We look forward to seeing you soon at the Zoom Room!