Congratulations to Our October 2017 Dog of the Month!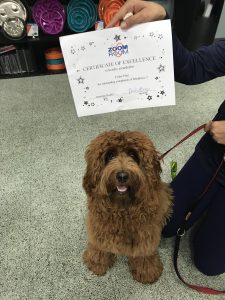 Hi! My name is Fisher. I am a 9 month old Labradoodle and I have been with my family since I was 8 weeks old. I was named after Carrie Fisher, even though I look more like Chewbacca. My friends and family say I am like a living teddy bear, made up completely of curly locks. I am loving, compassionate, loyal, eager to please and super playful. My favorite toy is Mr. Fox – he is a stuffy I picked out at Zoom Room and he makes this amazing squeaky sound that makes me crazy happy! I love to play tug-o-war and fetch it with Mr. Fox, and I know the names of all of my toys and can pick them up individually when you call them by name. I'm also a big fan of bubbles in the yard and everything involving a ball.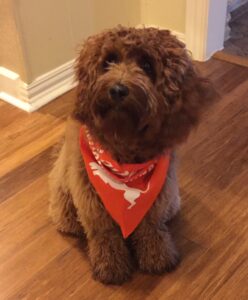 When I grow up I want to be a therapy dog. There is a reading program called the "Bow Dog Reading Program" that helps young people learn how to read with a therapy dog – I really want to be a part of that program! I am my family's first pet and I really love Zoom Room because they have helped me and my person work together in harmony. The trainers are so attentive and give tangible tips with opportunities to practice socialization and good manners. The consistency and repetition has given me so much confidence. I have passed Obedience 1 and 2 and can't wait for Obedience 3. I have found my super power in the family is to help everyone press the pause button, fall to the ground and play. This is especially powerful with two teenagers in the home. I'm down for a snuggle at the drop of a hat, and if you have a Gibson's Farmer's Bacon treat in your hand, I will do almost anything you ask.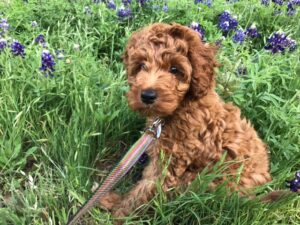 We are really grateful for Zoom Room's staff, amenities, and awesome activities with furry friends. Everything you need is one space!