Maximilian Ellis lives life to the max!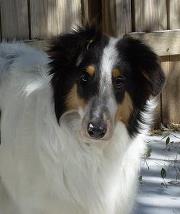 Congratulations to Max, our first ever Zoom Room Austin Member of the Month! You win a ½ hour private rental!
You might say "work hard, play hard" is this dog's philosophy of life. Max, a Zoom Room Obedience 1 graduate, works with his mom, Michelle, in the real estate biz. Together they help Austinites find apartments to live in. After a hard day on the job, Max, a white tri-faced rough collie, unwinds by playing chase with his best friend Chica, a teacup Chihuahua. A true gentleman, Max lets Chica chase him! Max's circle of friends extends beyond the canine variety, says mom Michelle. He has a fan club of neighborhood 5-year old human friends who adore him and who he adores right back.
You can also find Max posting messages and photos on his very own Facebook page. He likes hanging out at the dog park, too, although he tends to leave the crowd behind and explore on his own there. "Max does his own thing at the dog park," says Michelle.
Max's favorite game is "Run, Puppy, Run!" When he hears that phrase he takes off running in circles as fast as he can until he's completely out of breath. He knows his toys by name and can bring whichever toy he's asked to get, like his "chewy bone" or his "bouncy bone."
The handsome 19-month-old originally hails from Burnet.  And no wonder he's such a looker, Michelle says his parents are seven-time champions.
If you think your dog would be a great Member of the Month just go to our Facebook page, post a picture of your dog and tell us why.