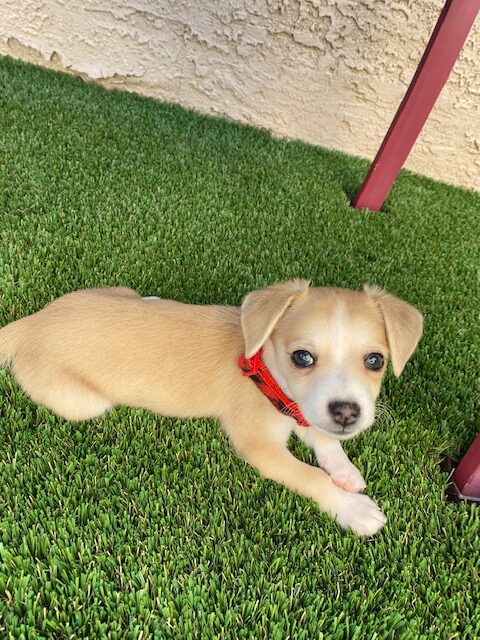 Bennington Cole – AKA Benni or Monster – is one of our littlest dogs, but also our mightiest! This brave boy thinks he is the size of a German Shepard, with the heart and excitement level of a golden retriever. Trainer Ray swears that we could power a whole town if we could just figure out how to harness the energy of his tail! Benni is very much a part of the Zoom Room family. He has been coming for about 7 months now – ever since he was 3 months old! We've been able to watch this little boy grow up to be a slightly bigger little boy (and have loved every minute of it)! He has been through Preschool, Puppy Plus, Obedience 1 and is now in Obedience 2!
Favorite Toy: His stuffed Goofy…and also all the dirty socks he can find!
Favorite Treat: Crunchy-Os and peanut butter free doggy donuts from Zoom Room!
Favorite Place to Nap: Anywhere that he can lay in the strangest positions, but his most favorite is the corner of the couch
Favorite activity at the Zoom Room: when we do relay games – but if you've ever been in class with him you know he basically loves anything that doesn't include needing to do a "down"!
Bennington Cole's owner, Laura, had this to say:
Benni is a hardcore mama's boy! He always waits eagerly at the gate for me when I come home from work in the mornings, ready to start his day with a nap. He's a very good boy in class but likes to be a typical 10mo old boy at home – always finding something to chew or destroy. I have a running photo album of his work – #benniwashere (his latest work was an Apple pen…he's lucky he's cute!) He loves playing with his cousins – human and doggy ones alike. He patiently lets the toddler do whatever she wants to him, and tries to get the old dogs to run and play like puppies again. He's definitely a silly pup and makes me laugh on a daily basis. He loves to go outside and lay on the warm grass – every single time he plops himself down dramatically. Life is never dull with Bennington Cole!