Traveling and Your Dog
Keeping the Happy in Your Holidays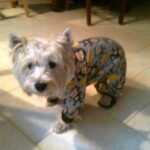 If you travel this holiday season, chances are you'll put a lot of thought into planning your trip so it will be as smooth and as enjoyable as possible.  Depending on what accommodations you make for your dog, you'll need to plan for them as well.  Let's look at some common pet accommodations during the holidays:
Leaving them home
Hiring a trustworthy teen or friend in your neighborhood could be a great option if you can't or don't want to take your dog with you.  Not only does it keep the dog at home (their comfort zone), but depending on the terms (and prices) you negotiate with your dog-sitter, they also won't be alone all day.  Just make sure you leave clear, comprehensive details for your sitter.  Provide emergency contact information and directions that are unique to your dog, including any medication he or she is taking at the time.  And be sure to leave the house with fully stocks food, toys and treat containers!
Finding a local kennel
In choosing a kennel, be sure to ask friends for references and visit the kennel in advance to make sure it meets your expectations. During the holidays, kennel space books up quickly so don't wait to reserve your spot. Be sure to inquire about vaccination requirements in addition to how they maintain cleanliness. To make your dog's stay comfortable, find out if they offer supervised social time with other dogs or daily walks. Finally, be sure to leave all your contact information and take their information so you can check in while you are away.
Taking them with you
Whether by plane, train or automobile, there are some key things to keep in mind if you decide to take your dog with you.  For example, if traveling by car don't forget that he or she needs a seatbelt too.  Stop by the Zoom Room and pick up a Clix® CarSafe harness to keep your dog safe and secure while you drive. You can also pick up durable leashes to help ensure they don't stray, compact travel bowls for food and water, and more!  And if you're traveling by air, be sure to check your airline's pet policies and fees well in advance of your arrival at the check-in counter.
However you decide to accommodate your dog this holiday season, make sure you're equipped with what you need to keep the happy in your holidays.  If you need any last minute obedience tips, give us a call and we can schedule a private session. We want to make sure your dog does not end up with coal in his stocking. Happy Holidays!