Spring Art Crawl & Sidewalk Sale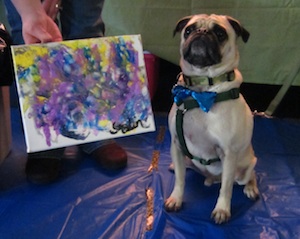 Spring has sprung and Brady Street will be celebrating with sidewalk sales and an Art Crawl on Saturday, June 2nd!  Along with great deals on products and services, artists will be in residence at local businesses, demonstrating and showcasing their art between 11:00 am and 4:00 pm.  Make the crawl along Brady Street to visit the artists and get your card stamped at each business to enter a raffle to win great prizes!
Stop in at Zoom Room where Tiffany from WYWO Pets will help your pup create his or her very own canvas masterpiece for only $10 without even getting their paws dirty!
Steve Wirtz, award winning sculptor and Zoom Room's resident artist for the day, will be creating his wonderful, whimsical wire and papier mache' dog sculptures.  Buy one of his completed pieces or have him create one of your dog!
If your art gallery is full, you can still bring your dog by to enjoy our free Doggie Donuts and take advantage of special deals!  Zoom Room will be offering 15% off on all products and services (excluding food and gift cards) as well as some additional super specials on select items.
Proceeds from Puppy Painting and 5% of Zoom Room's retail sales will be donated to Healing4Heroes and our neighboring coffee shop & veterans support group, Dry Hootch for their PTSD service dog project.