SMART Agility Trials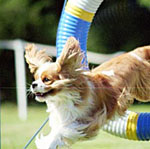 Check out the Salinas-Monterey Agility Racing Team's (SMART) agility trials taking place at York School off Hwy 68 in Monterey on July 15 – 17. This is SMART's third annual event with a brand new venue at the York School. They will have wine tasting and dinner ringside for the contestants. They will have three rings of competition going on simultaneously over the weekend. If you are in an agility class at the Zoom Room or want to teach your dog agility, check out the trials to see what you and your dog could achieve with classes and practice. Once you are inspired, be sure to sign up for a beginning, intermediate or advanced agility class in our upcoming session beginning August 1.
For more information on the trials, click here.