Meet Madeline Louise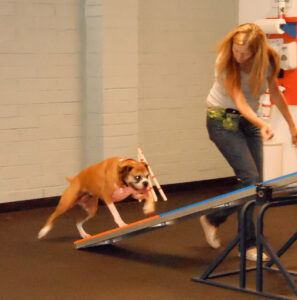 This submission is by Fawn Mackey, whose everyday Hero Dog is Madeline Louise, a Boxer.
My Dog is My Hero Because…
Madeline is 11 years old and sight impaired. She in in agility and just started the last few months. I have to help her at times and we will never win a speed record, but she loves it. I don't mind slowing down for her. She slowed down for me when I was first diagnosed with RA and I could barely walk. She never pulled on the leash she let me lean on her to get up when I could not get up off the floor on my own. I don't mind waiting for her now.
She gets me up at night to let her out now. I just removed the carpet because sometimes she can't make it. I don't mind. She Paced the floor with me when my brother died and comforted me. I can care for her now.
I lift her in and out the car now so she does not hurt her self. I don't mind helping her. Once she stood in front of me, facing two aggressive dogs, to keep me safe. I can protect her now.
I  alter my schedule for rides around the beach because she likes to hang her head out the window. I don't mind. She has made me laugh a thousand times. Even on the worst days she has been there greeting  me with a toy in her mouth,  a wiggle, and a smile. I want that for her. I can do that for her now.
She taught my grandchildren gentleness, loyalty and love. The least I can do is to give her that now, because she is, and always will be my hero.
Learn more about the Hero Dog Awards.