Learning How to Be a Better Dog Owner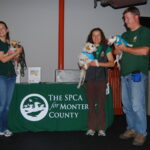 Zoom Room Monterey Bay hosted a community event, Responsible Dog Ownership Day on Sunday, September 25th. Those who attended were able to meet and ask questions of pet professionals in the fields of traditional, emergency, and holistic veterinary care as well as professional grooming. Volunteers from the SPCA of the Monterey Peninsula arrived with 4 adoptable dogs and answered questions about adoption fees and policies. Our own Ratna Anagol was available to offer her expertise on the correct usage of the agility equipment.
The SPCA was our designated charity and 10% of the day's sales were donated to this worthy organization whose goal is to find homes for many abandoned and/or surrendered pets each year.
Those who attended had a wonderful opportunity to mingle and learn all about the different aspect of being a responsible dog owner. Oh … and the dogs had a wonderful time trying out all the equipment and getting a Doggy Donut treat … or two!