The Zoom Room is a Proud Participant
in the Pride in Business Expo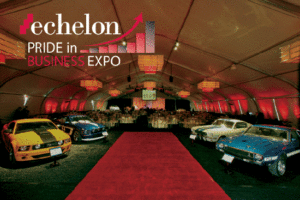 The Pride in Business Expo will take place at the Petersen Museum on September 11 and 12, celebrating the GLBT business community. The Zoom Room is extraordinarily proud to be an exhibitor at this year's event, helping to support the concept of conscientious business ownership and community awareness.
Here at the Zoom Room, we take enormous pride in the diversity of our franchisees, employees and clients. (Not to mention the diversity of the dogs themselves!) The Zoom Room, by its very nature, attracts dog owners who wish to provide profound love and a superb quality of life for their pets. A great number of our clients enjoy the company of rescued animals, and the Zoom Room works closely with local animal shelters, rescue organizations and other charitable foundations to improve the lives of pets.
Both in our group classes and our extravagant special events, the Zoom Room is primarily a place for socialization – for humans and dogs alike. As such, we strive to create a fun-filled, good-humored environment that fosters tolerance, goodwill and acts of kindness. And of course, we are an equal opportunity employer.
The Echelon Pride in Business Expo will take place on June 5 and 6 at the Petersen Museum. A portion of all proceeds will be donated to the Los Angeles Gay and Lesbian Center. In attendance will be businesses looking for employees, franchisors looking for franchisees, and a bevy of whipsmart businesspeople and entrepreneurs excited about this unique networking opportunity.
You can learn more about the Echelon Pride in Business Expo or call (323) 230-5548. The Petersen is located at 6060 Wilshire Boulevard, Los Angeles, CA 90036-3605. The event will take place on the second floor… under the Big Top!
Please mark your calendars and come by to visit us at the Zoom Room booth. We'll have fresh-baked cookies for you and your dog!