Pomeranian Rescue Party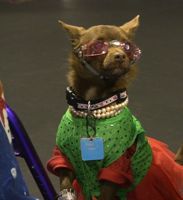 On December 18, a dazzling group of 20 Pomeranians celebrated the holidays at the Zoom Room Hollywood. All dogs are from the Southern California Pomeranian Rescue, and all owners are adopters and/or volunteers at the Rescue.
The party's organizer and her own lovely Pom are recent graduates of Shy Dog Training at the Zoom Room. As you can see from the pictures below… no wallflowers at this party!