Grand Opening!
Zoom Room Milwaukee Debuts
On July 9, 2011, the Zoom Room will open its doors to celebrate the social aspect of dog ownership in Milwaukee, while raising money for the Wisconsin Humane Society.
The day will include FREE dog agility classes and a fabulous party in the evening. Everything is free – and everyone is welcome!
The Zoom Room is located at 1701 N. Humboldt Avenue, on the corner of Brady Street.
Wisconsin Humane Society

Our Grand Opening will also serve as a fund-raiser for the wonderful Wisconsin Humane Society.
The Wisconsin Humane Society is dedicated to the protection of animals. They are a private nonprofit organization whose mission is to build a community where people value animals and treat them with respect and kindness. WHS has been saving the lives of animals in need for 130 years. They are the largest and most recognized shelter in the state of Wisconsin.
For everyone who RSVPs in advance for our Grand Opening, the Zoom Room will make a $5 donation to the WHS. But wait, there's more!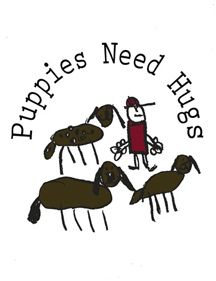 Puppies Need Hugs
Six-year-old Kian Green will be in attendance, selling "Puppies Need Hugs" t-shirts as a fund-raiser for the WHS. The Zoom Room will donate an additional $5 to the WHS for every t-shirt sold.
Free Dog Agility Classes
Every dog can enjoy agility training! And what better way to check it out than with a free class! Space is extremely limited, so please reserve your spot now. Classes will be held at 10 am, 11 am, 1 pm and 2:30 pm.
Grand Opening Party
And then, from 6 pm to 10 pm, we'll host a blow-out party. We'll be serving delicious goodies from The Fast Foodie, as well as freshly brewed "Zoom Room Agility," a new line of direct trade coffee made exclusively for the Zoom Room by Intelligentsia Coffee and Tea.
We'll have treats for the pups, a Doggy Disco®, music, fun, and a chance to mix and mingle among other great dog owners in Milwaukee.
You can also memorialize the event with a great drawing of your pup, courtesy of caricature artist and entertainer David Fliss, who will be drawing free caricatures from 6:30 – 9:30 pm.
The party is open to all dog owners, accompanied by their dogs of course, completely free of charge. However, we do require that you RSVP in advance. And for every person who RSVP's, the Zoom Room will donate $5 to the Wisconsin Humane Society. We'll also be accepting additional donations throughout the day and evening, so while all of the day's events are free, we ask that you please bring your checkbook and talk to the folks from WHS about all of the incredible work they do to improve the lives of dogs. Please help us make a difference.
We look forward to meeting you and your dog!