Grand Opening Celebration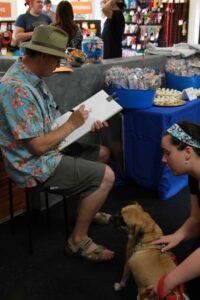 A big thank you goes to everyone who came out to our Grand Opening celebration on July 9th!  We had a great group of superstar dogs who rocked the course in our free Introduction to Agility classes during the day, and the Doggy Disco party in the evening was a big success. We raised over $500 for the Wisconsin Humane Society and we were so happy to have "Puppies with Hugs" there selling t-shirts for the WHS fundraiser.
Artist David Fliss was a huge hit sketching caricatures of more than 50 dogs during the party!  Everybody seemed to have a great time and we even saw several pups successfully coaxed through agility obstacles by plates of doggy beef & rice from The Fast Foodie.  Maybe we'll have to add that method to our training toolkit!  
Want to throw your own party?
Don't leave your best friend home alone – book the Zoom Room for your next event!  Our gym is perfect for dog-friendly kid's parties, doggy adoption or birthday parties, and even wedding receptions.  Along with the venue, we'll provide our famous Doggy Disco with a music theme of your choice, as well as special treats and a mini-agility lesson for your four-legged guests. Schedule your party by calling us at 414-220-9202.