Dog Yoga
Wind down from the holidays with your buddy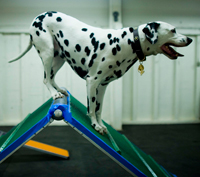 On Sunday, January 2nd, we are offering a completely FREE new Dog Yoga Class for Zoom Room Members and their dogs. You will both be guided through relaxing poses and stretches – a great way to chill out after the stresses of the holidays and a perfect way to begin or end a workout.
The class is offered at 10:30 – 11:00 am, and again at Noon-12:30 pm on Sunday. The class is FREE for all Zoom Room members, but space is limited so hurry and reserve your spot now!
UPDATE: Both classes are now full, but by popular demand we've just added a third class this Sunday at 1 pm. Use the link below to reserve your spot!