Non-Anesthetic Teeth Cleaning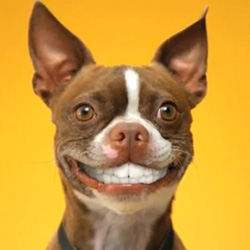 Give your dog a sparkling smile with NO ANESTHESIA! This kind and gentle ultrasonic procedure is veterinarian-supervised. Your dog will remain awake, alert and comfortable throughout this quick and tremendously effective procedure!
We are offering our special non-anesthetic teeth cleaning clinic for dogs on Thursday, November 18, with appointments available from 2 pm to 7 pm. You'll find a link below for reserving your spot.
Ultrasonic Teeth Cleaning
This ultrasonic teeth cleaning for dogs is provided to you under the full supervision of a wonderful (and fully insured & licensed!) veterinarian. In fact, in the State of California, non-anesthetic teeth cleaning must be conducted with a veterinarian present, as it is considered a medical procedure. If you've seen similar dog teeth cleaning services offered elsewhere – be sure to insist upon the presence of a veterinarian! Without a veterinarian, there is no way to properly assess your dog's oral conditions and special needs. (And it's against the law!)
Dental hygiene is as important for your dog as it is for you; teeth cleaning for dogs is vital to their health. Poor oral hygiene has been linked to internal disorders, as well as heart, kidney and liver diseases. Most dogs require a cleaning every six months.
The veterinarian will examine your dog prior to the cleaning in order to gain knowledge about your dog's general health. There are no costly blood tests, and of course you will not be paying for anesthesia – because there isn't any!
Ultrasonic teeth cleaning is also especially effective at cleaning not only the visible surface of your dog's teeth, but also in that critical area under the gum line.
Low-Cost Vaccinations
In addition to the non-anesthetic teeth cleaning, you can also book low-cost vaccinations and other services, to occur in conjuction with your dog's ultrasonic teeth cleaning session. All of these services are offered with full veterinarian supervision. If you'd like to take advantage of any of the following add-ons, please call us (323-272-4665) or send us an email after making your dog's teeth cleaning appointment. Or just stop on by!
We are also offering the following services – again, please contact us in advance if you'd like to add any of these:
Rabies Vaccination: $12
DHPP Vaccination: $18
Bordetella Vaccination: $12
Adult Dog Vaccination Package (Rabies + DHPP + Bordetella): $33
Puppy Package (DHPP + Bordetella + Deworm): $27
Nail trim: $15
Microchipping: $25
Spaces are limited, so be sure to reserve your spot! The cost of the non-anesthetic teeth cleaning for dogs is $125. Click on the link below and you'll be able to pick any available time between 2 pm and 7 pm on November 18th.