AFRP fundraiser a success!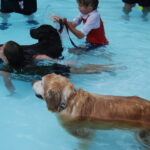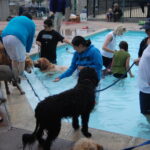 Last Saturday the Animal Friends Rescue Project hosted the Pooch Plunge fundraiser at Lover's Point Pool in Pacific Grove. For a donation of $10.00 dog owners had the opportunity to let their canine companion swim in the pool before it closed for the season. All breeds were represented, and soggy, wet dogs abounded at this fun-filled event.
Next time your pooch is in the water, be sure to use our super absorbent Zoom Room towels that are great for quickly drying Fido's wet coat. Stop by to grab a few and keep them handy for those wet moments.
Thanks to all the dedicated dog owners for coming out and supporting Animal Friends Rescue Project.